Portsmouth's Got a Brand-New Train
Recently, Norfolk and Western's #1134 settled into its new home in downtown Portsmouth. According to the The Lost Engines of Roanoke website, the old steam locomotive was rescued from the Virginia Scrap Iron and Metal Yard in Roanoke, Virginia where it had been dying a slow-death by rust for the last 60 years. The website also states that #1134 and her siblings (#917, 1118 and 1151) landed there in in the 1950s, having been relegated to the scrap heap when newer, more modern steam engines were ordered by the railroads.
The Virginian Pilot reports that on Tuesday (May 18, 2010), the 250,000-pound locomotive was back on the tracks again at its new home in Portsmouth. Unfortunately, this shining black beauty is not ready to be run out of town on a rail. She's had a "cosmetic restoration," meaning that she'll never ride the rails again under her own steam.
Nonetheless, it's wonderful that a handful of visionaries in Portsmouth have worked so tirelessly to preserve a piece of our country's past. And Norfolk and Western's #1134 is the capstone in the privately-funded Railroad Museum of Virginia. According to the article in the Pilot, contributions are welcome and can be made to:
The Railroad Museum of Virginia, Inc.
c/o Willard J. Moody Sr. Esq.
500 Crawford St. Suite 300
Portsmouth, VA 23704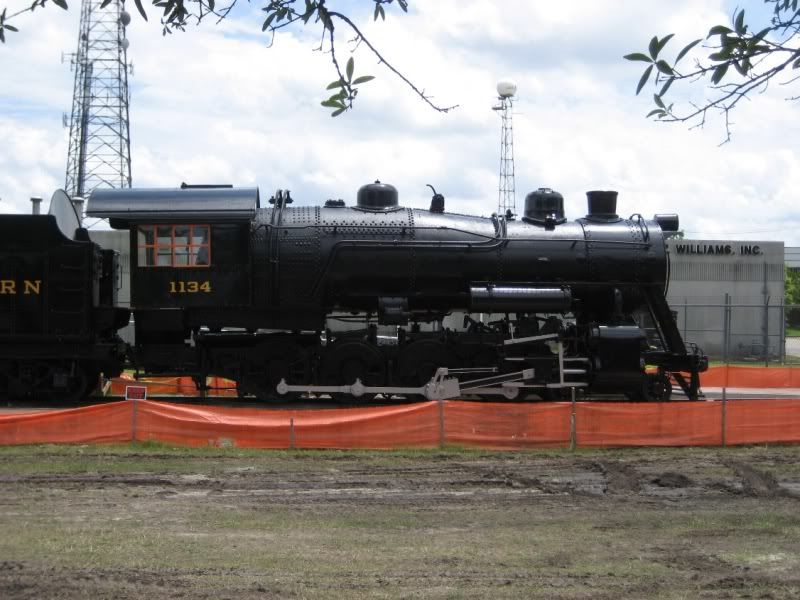 Categories:
Uncategorized
aaron montgomery ward, aladdin homes, aladdin kit homes, Aladdin mail order, alton, alvah c. roebuck, American foursquare, bengali, bungalow, cairo, Cairo Illinois, Carlinville, craftsman bungalows, dale Patrick wolick, Dale Wolicki, downtown portsmouth, four square, foursquare, gordon van time, gordon van tine, homart, homart appliances, homart homes, honor bilt, honor built, houses by mail, human and arthington street, Jim Walters, jim walters kit homes, lewis manufacturing, lost engines of roanoke, magnolia, magnolia house, magnolia kit house, Magnolia manor, mail order house, mail order houses, montgomery ward, norfolk, Norfolk and Western, Number 1134, pbs history detectives, portsmouth museum, portsmouth steam engine, Portsmouth train, pre-cut, precut homes, prefab catalog houses, prefab homes, prefab houses, prefab kit houses, prefabricated, richard warren sears, Rose Thornton, Rosemary Thornton, sears alhambra, sears and craftsman, sears and roebuck, sears argyle, sears avondale, sears catalog homes, sears craftsman, sears fullerton, sears gladstone, sears Hammond, sears Hampton, Sears Homes, Sears kit Homes, sears magnolia, Sears Modern Homes, sears winona, soddies, standard addition, standard oil, the houses that sears built, virginia, wardway, wardway homes, wardway kit homes