When Bad Things Happen to Nice Sears Homes
Years ago, my friend Rebecca Hunter drove me to an Midwestern suburb and showed me this Sears Westly (see pictures below). She made me close my eyes as we pulled up to the house. Sitting squarely in front of it, I exclaimed that it looked like a nice little Westly. Then she giggled a bit and pulled forward, so I could see "The rest of the story."
I gasped in horror. Incredibly, someone built a neighborhood behind this once-darling Sears Westly. Why anyone would do this, is a puzzle. How anyone got zoning approval to do this is a BIGGER puzzle!!
To read more about the Sears Homes in the Midwest, click here.
To visit Rebecca's website, click here.
Next is a the Sears Madelia. The first picture (first image) is a picture of the Madelia from the 1919 Sears Catalog. The next picture is a happy, healthy Madelia in Wood River, Illinois on 9th Street. There are 24 Sears Homes in a row, a remnant from the days of Standard Oil's purchase of $1 million worth of Sears Homes for their refinery workers. The third picture I've titled, A Madelia trapped in a tavern's body.


And here's the Madelia trapped in a tavern's body.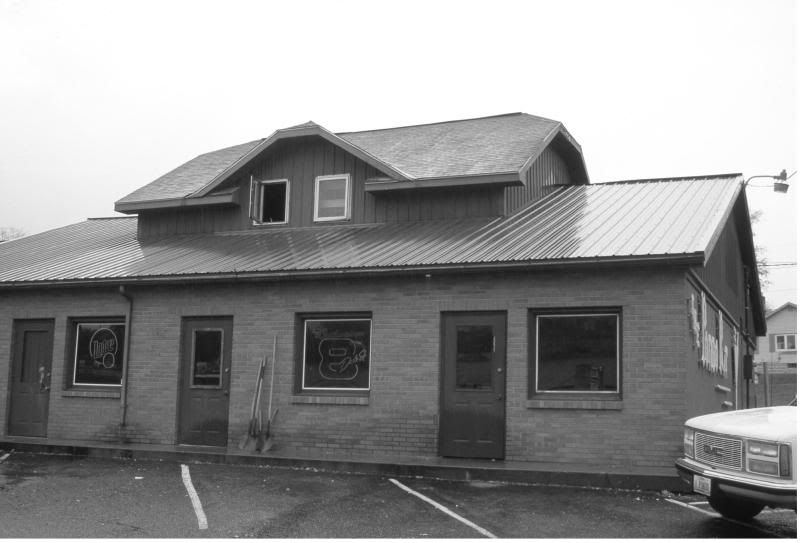 Categories:
Uncategorized
foursquare, honor bilt, honor built, Rose Thornton, Rosemary Thornton, sears four square, Sears Homes, sears homes in chicago, sears homes in Illinois, sears homes in virginia, sears magnolia, Sears Modern Homes, sears prefab, sears prefab homes, sears roanoke, Sears westly